TURN YOUR DREAM OF FLYING INTO REALITY
Experience a customized FAA and EASA training for airplane pilots. Benefit from our partnerships with airlines and gain flight hours through work experience in the USA thanks to the F1 visa program.

Ready for takeoff
Become a pilot
Experience the ultimate feeling of freedom in the skies.
As an pilot, you will pilot airplanes through the skies, discover new places and experience the incredible freedom of flying. Whether in passenger transport, in the cargo business, or in other parts of the aviation industry – as a pilot you can expect varied and exciting jobs around the world.
Gain flight hours efficiently by working in the USA.
Unlike Europe, the U.S. allows you to build up flight hours more quickly through subsequent work as a pilot. This accelerates your path to a pilot's license and increases your attractiveness to airlines and employers worldwide.
Build an international career.
With the opportunity to complete customized EASA and FAA training at Hillsboro Aero Academy and benefit from our partnerships with airlines, you'll lay the foundation for an international career.
Lift off into the skies together.
Hillsboro Aero Academy offers world-class training and support every step of the way. Join us and experience what it means to see the world from a bird's eye view. Your career as an airline pilot starts here!
Pilot training since 1980
With FAA and EASA certification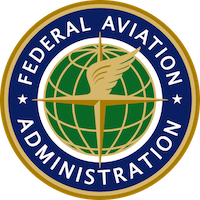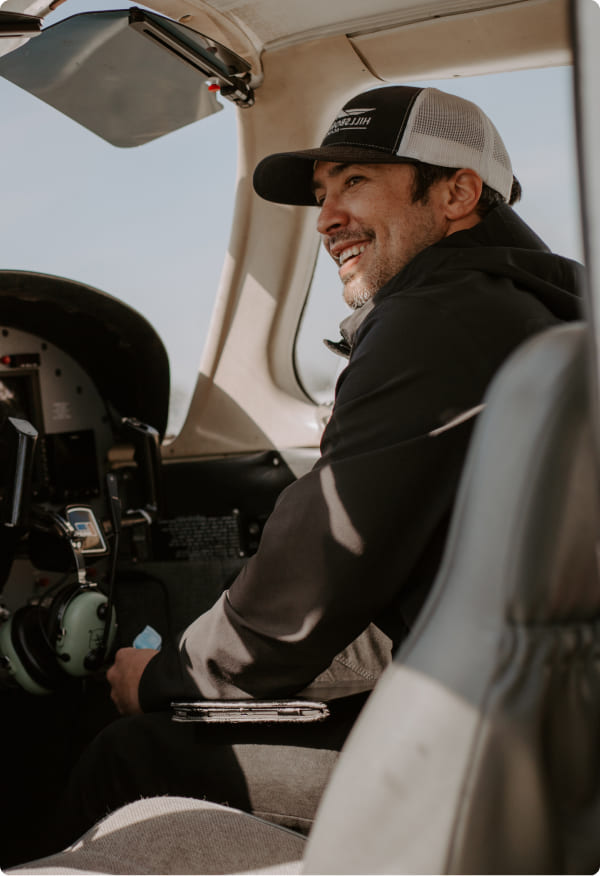 As a trusted partner for aspiring pilots since 1980, we are the only F1-certified school in the U.S. to offer full EASA training. In addition to FAA training, this is a key advantage that opens up a wide range of international career opportunities for you.
Our F1 visa sets us apart from other flight schools and opens up the opportunity for you to not only learn in the U.S., but also gain valuable work experience upon completion of your training.
With our renowned Professional Pilot Program, which our students successfully complete, you will benefit from the valuable work experience and flight hours you gain during your training.
Whether you want to pursue a career in commercial aviation or take off as a private pilot, our years of experience and expertise will give you the tools you need to turn your dreams into reality. Start your career in the skies with us now!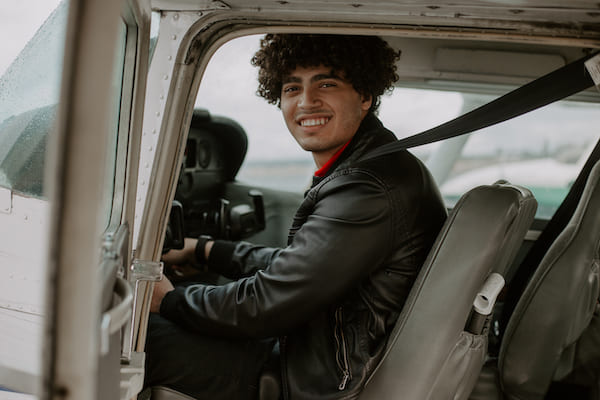 Gain experience
Hillsboro Areo Academy - the right choice
Laut einer Boeing Studie von 2018 werden in den nächsten 20 Jahren 790.000 Pilot:innen benötigt, um mit dem weltweiten Wachstum der Airlines Schritt zu halten. Diese Ergebnisse werden auch langfristig nicht durch COVID beeinträchtigt. Dies eröffnet enorme Chancen für Pilot:innen mit der richtigen Erfahrung und ausreichenden Flugstunden.
Hier kommt unser F1-Visum mit CPT und OPT ins Spiel. Nach erfolgreichem Abschluss des Pilotentrainings haben unsere Schüler:innen die Möglichkeit, bis zu zwei Jahre in den USA als Fluglehrer:in und Pilot:in zu arbeiten und Flugstunden zu sammeln. Darüber hinaus bietet unser EASA Programm auch die einzigartige Möglichkeit, die Karriere vor allem auch in Europa weiter auszubauen.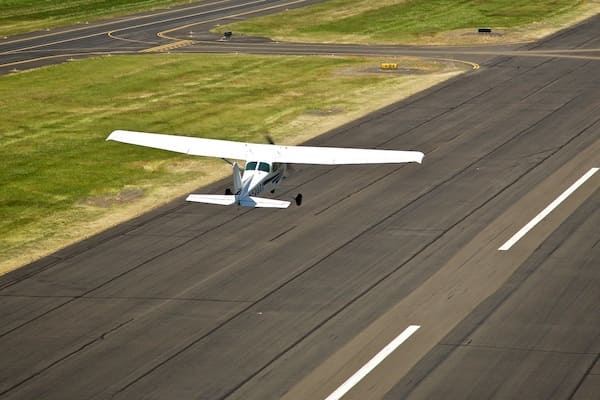 Since 1980
Ideal trainings - environment
Our facilities in Hillsboro and Redmond (Oregon) offer an outstanding training environment. Surrounded by the breathtaking nature of the Northwest, our facilities not only provide an ideal scenario for flight training, but also an inspiring environment in which you can develop your skills as a pilot.
Apply online at: flyhaa.com/apply

We will have a first telephone conversation with you to assess your English skills.

If you don't have a high school diploma, you will take an online English and math test.

Once you have passed all the tests, you will be charged a registration and processing fee.

After paying these fees, we will provide you with visa application instructions and send you the necessary I-20 form, which you can use to apply directly to the embassy for the visa.
Of course, we will always be there to support you. Of course, we will always support you in the application process as well as in all further steps of your education. Therefore, just ask us, come to us and we will support you.
After the application you will get access to our online learning material.

Here you can prepare for the theory training.

In addition, we recommend the PlaneEnglish app for learning aviation radio terminology – Hillsboro students receive a discount on this app.

Arrival – You can arrive up to 30 days before your training starts.
PPL
FAA Private Pilot License
50 flying hours & 50 theory training hours
Now it really starts: From day 1 you sit in the cockpit, gain experience and learn basic flight maneuvers.

This is your first step on the way to your Commercial License.
The PPL allows you to operate independently as a pilot an airplane. This is the first step in your pilot career and lays the foundation for more advanced licenses.
During this course, you will learn to safely pilot an airplane, navigate in the airspace, and fly the airplane on solo flights without an instructor. During the PPL, you will learn the theory and flight skills to safely fly the airplane on your own. During the first 20 to 30 hours, you practice maneuvers and emergency procedures. Then you do a so-called stage check. Here an experienced flight instructor tests your knowledge and skills and then you fly solo for the first time.
After that there are several navigation flights, first with your CFI and then alone. When this is done, you practice flight maneuvers again and then do your PPL checkride. In the USA, the checkride consists of a written, an oral and a flying part.
ATPL
EASA Airline Transport Pilot License
590 hours online & 60 hours in the classroom
The theory for the EASA ATPL (Air Transport Pilot License) starts directly after the PPL and is done parallel to the FAA training.

There are 13 subjects, the order of which you can choose freely. The theory consists primarily of self-study online courses.
Within 9 months all subjects and exams are completed, and every 2 months there is the possibility to take EASA exams. This gives you the flexibility to tailor your learning program to your needs and progress effectively. Before the EASA check flight, your English skills and radiotelephony experience will be tested again.
IFR
FAA Instrument Flight Rating
35 flight / simulator hours & 30 theory training hours
Learn to fly under instrument flight rules 

Here you will learn everything you need to know about instrument use

The weather here in the Northwest offers great opportunities for practice
With IFR training, you'll be able to fly safely in bad weather and limited visibility. This is an essential qualification for many pilot jobs.
This rating will allow you to fly in bad weather and through clouds. During Instrument Flight Training, you will learn how to fly an aircraft in weather conditions where reference points outside the cockpit cannot be relied upon.
In Instrument Flight Training, you learn how to fly on instruments. This means that you fly with a so-called "view limiting device", i.e. you cannot look out of the cockpit and you only fly with reference to the instruments. For this training you have to calculate about 35 flight/simulator hours plus theory time in your planning.
COM
FAA Commercial Pilot Training (SE/ME)
86 flight / simulator hours & 68 theory training hours
Earn your Commercial Pilot certificate and get paid to fly 

Deepen your flying skills and expand your maneuver repertoire

Learn to fly at a higher level and prepare for more precise standards
Become a professional and make flying your profession. The Commercial Pilot License (CPL) allows you to work commercially as an aircraft pilot. With extensive flight hours and specific training for professional areas of operation, you will acquire advanced flying skills during the Commercial Pilot Training and deepen your knowledge in all previously learned subject areas.
The CPL is primarily to be understood as a professionalization training, which enables you to work as a commercial pilot in the USA. In addition to flying in single-engine Cessna 152 and 172 aircraft, you will also start your training in multi-engine (ME) training on a multi-engine aircraft, for which we use the Piper PA44.
CFI
Certified Flight Instructor
25 flying hours & 70 theory training hours
Share your passion and knowledge with other aspiring pilots.

As a Certified Flight Instructor (CFI), you can give flight lessons and get paid as an instructor.

In this course you will learn the basics of teaching including theory training and flight maneuvers.

We will also train you to respond appropriately to student actions in flight.
As a Certified Flight Instructor, you will have the opportunity to teach your flight skills to others and help them earn their own pilot's licenses. In addition, completed CFI training is required for your F1 visa to begin working.
Most pilots start their career as a flight instructor. It is one of the few jobs you can get with little flying experience, and you deepen your skills and knowledge a lot when you teach students. Flight instructors who have completed their flight instructor training with us are in high demand and we get many requests from other flight schools to hire our graduates.
After your commercial training you can start your flight instructor training. Here you will be trained a lot to become a professional flight instructor. In class you will first learn didactic and pedagogical basics – then you will teach classmates and instructors and receive regular feedback. In the airplane you will learn to fly from the right seat and to teach and fly at the same time. You will also learn a few new maneuvers, such as spin recovery.
MEI
FAA Multi Engine Instructor
15 flying hours in the PA44
Instruct students in multi-engine airplanes
Improve your flying skills in the Piper PA44
In this training you will fly the aircraft from the right seat and improve your flying skills in the Piper PA44. You will also learn how to teach students to fly in a multi-engine aircraft. For students who are also taking EASA training, you will have the opportunity to practice all maneuvers according to EASA standards.
COM
EASA Commercial Pilot Training
Flying hours are part of the FAA MEI training

Examination flight with an Austrian examiner (4 times per year)
During your FAA Multi Engine flight instructor training you already complete the required flight hours and refine your flying skills in the Piper PA44. For the final exam, an experienced examiner from Austria will be flown in four times a year to evaluate your skills.
Your 23.5 months of work authorization in the USA start
approx. 6.5 flying hours
Sharpen your skills in instrument flying
Master the differences between the American and European systems
The EASA Instrument Training takes place a few months after the completion of the actual training. Prior to this, you will need 50 hours of flight time as an instrument flight instructor to fulfill the requirements for the training.
During the EASA Instrument Training you will focus on instrument flying and master the specific differences between the American and European systems. For the final exam, an experienced examiner from Austria will be flown in four times a year to evaluate your competence. This training provides you with a valuable career advantage and enhances your professional development as a pilot.
Free Webinars
INFO EVENT: PILOT TRAINING IN THE USA
We regularly host free webinars to provide information about pilot training and our collaborations, such as with ADAC Luftrettung. Whether you are interested in becoming a helicopter or airplane pilot, our webinars provide comprehensive information on the various training opportunities.
The webinars are held on various dates. If you are interested in attending a webinar, simply contact us and we will let you know. In addition, we hold several face-to-face information events each year in Germany and Europe, and present ourselves at Aero Friedrichshafen. Please contact us for information about upcoming events.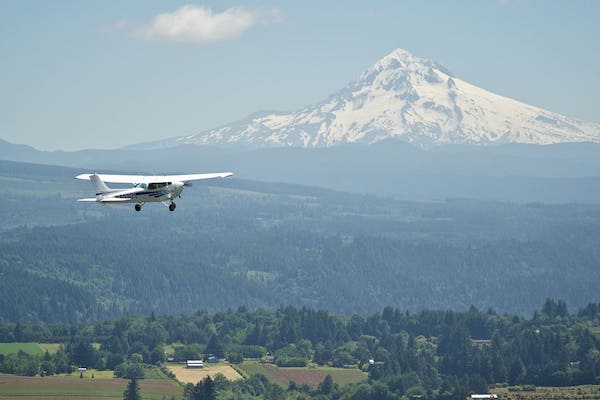 USA vs. Europe
Why flight training in the USA is better
Flight training in the USA offers many advantages to pilots. In addition to the opportunity to gain international experience and improve English language skills, it also provides valuable networking opportunities in the global aviation industry.
In addition, becoming a flight instructor offers the opportunity to gain additional flight hours and develop as a pilot. These unique aspects of training in the U.S. help to enhance career prospects and provide unforgettable experiences.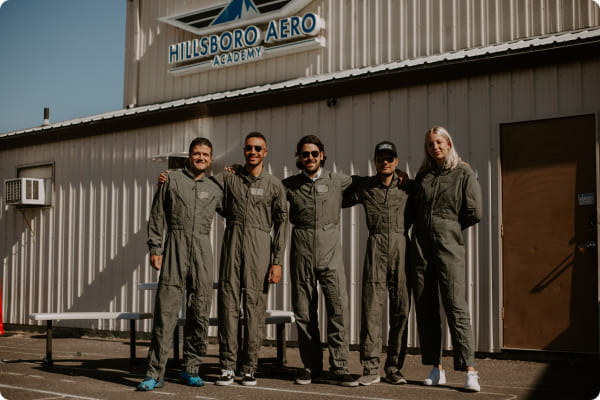 Community
Hillsboro is well known
Wo auch immer man fliegt, Pilot:innen und Airlines kennen und respektieren "Hillsboro Pilot:innen". Unser Ansehen in der Luftfahrt hat dazu geführt, dass Skywest Airlines und Horizon Airlines viele unserer Fluglehrer:innen anheuern, sobald diese 1500 Flugstunden haben.
Seit dem Frühjahr 2019 arbeitet die Hillsboro Aero Academy mit Ameriflight zusammen, um internationalen Schüler:innen neue Chancen in den USA zu ermöglichen.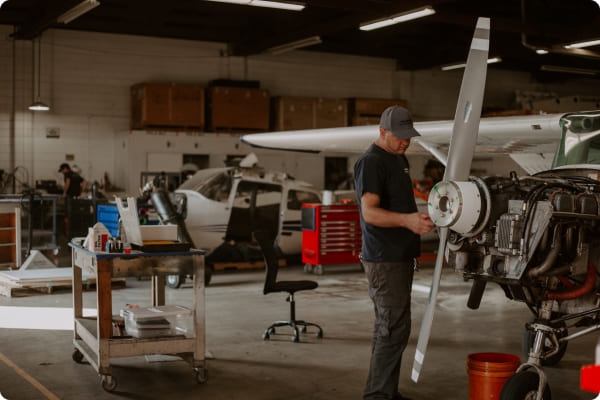 Safety matters
We are among the best
Hillsboro Aero Academy ist die erste Flugschule weltweit, die die Akkreditierung nach dem "International Standart for Business Aircraft Operations" (IS/BAO) erhalten hat. Diese Anerkennung spiegelt das große Engagement unserer Piloten, Mechaniker und Support Teams wieder, wenn es um Flugsicherheit geht.
Costs
Invest in your future
When choosing a flight school, it is not only the quality of the instruction and the experience of the instructors that matter, but also the value for money. We understand that this training is a significant investment in your future.
Important tips for a smart comparison
It is advisable to carefully examine different flight schools and compare their offers. You should pay special attention to the type of visa offered by the schools. For example, many U.S. schools only offer an M1 visa, which does not allow work after training. This can result in significant additional costs. At Hillsboro Aero Academy, we offer the F1 visa, which allows you to work in the U.S. as a pilot for a full 23.5 months after completing your training.
What can you expect as a guideline for the costs?
Every prospective pilot has different requirements and experience, so it is difficult to give a fixed all-inclusive price.
For detailed and up-to-date prices, please visit our US website, where you can find all current rates. We would be happy to send you a personalized cost breakdown and a list of expected ancillary costs tailored precisely to your individual situation. Simply contact us to receive further information.
We are happy to help you!
We want you to be fully informed and make an informed decision. Please contact us personally for a more detailed cost breakdown and more information about our flight school. We also invite you to participate in one of our free webinars.
Let's make your dream come true.
YOUR CONTACT
We know that becoming a pilot requires many steps and considerations. Our team is ready to support you every step of the way, from your initial inquiry to the completion of your training.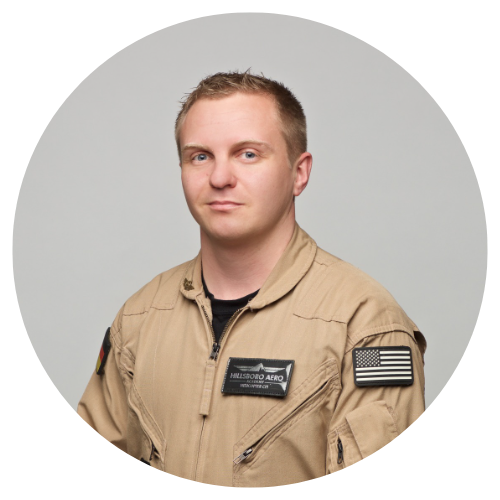 I'm Phil and I assist our future students from Europe to achieve their dream. Contact me and we can discuss your situation together.
Phil Haupt, ADAC Helicopter Pilot & Airplane Professional Pilot – Languages: English, German
What are the requirements to begin helicopter pilot training?

To begin helicopter pilot training at Hillsboro Aero Academy, you must be at least 18 years old. You can apply if you are 17, but you must be 18 before training begins. You also need to have a sufficient knowledge of English, as classes are held in English.

For the F1 visa, which is a student visa, you must have a high school diploma or equivalent. Students who do not have a high school diploma can take an online placement test in English and math.

You will also need a medical certificate (FAA Medical Certificate & Austrian EASA Class 1 Medical) confirming that you are medically fit to fly.

How long does the pilot training take?

Our Professional Pilot program usually lasts 18 to 24 months and comprehensively prepares you for a successful career. If you already have flying experience, we are happy to develop individual training plans tailored to your needs.

What licenses can I obtain at Hillsboro Aero Academy?

You can obtain both FAA and EASA licenses with us. We also offer a combined FAA/EASA program that will qualify you for an international career as a pilot.

Can I work in the USA after the training?

Yes, with the right visa and qualifications, it is possible to work in the U.S. after graduation. Hillsboro Heli Academy supports international students with the F1 visa, which allows graduates to work in the U.S. for up to 23.5 months as a flight instructor or pilot and gain valuable flight hours.